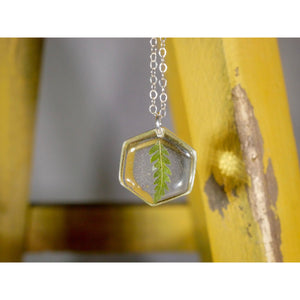 Tiny fern hexagon necklace
A simple hexagon shape and a simple fern leaf... the combination is so beautiful.

This necklace is made to order and can also be made with a gold frame.


The fern plant symbolizes "sincerity" and a bond of love. I also just think it's simple beauty is one of the best forms of art Mother Earth has gifted us.

With our dainty pressed fern triangle necklace contains a tiny fern leaf, preserved in jewelry grade resin. It can serve as a constant reminder of the beauty all around us, or a symbol of love.

The hexagon is approx 14mm, and is gold plated (nickel free) brass, and it hangs on a sterling silver chain

This necklace is made to order, so yours might differ slightly, but will be just as unique and beautiful as the ones pictured.

Please allow 5-14 days before shipping for us to make your item!

This necklace comes to you in a cute box with a bow.



Remedy Designs was born from our love of nature, beautiful colors, and all things sparkly. Our main goal is to create products that make you feel good, and for you to have a positive buying experience with our shop! Please don't hesitate to contact us with any questions or problems with your order!!!!!


****Please keep in mind that your item may contain small bubbles or imperfections. Every item is handmade and it just adds to their beauty.

****While resin can be quite durable, it's best to not wear it directly in water and to keep it out of extreme heat. If your pieces gets Scratvhes or smudges, it can usually easily be buffed out with a soft cloth.

****If you are looking for something in particular but don't see it in our shop, feel free to message us a request for a custom order!


****Please allow 3-5 business days for preparation and shipment. If you need your item sooner, please send us a note and we will do our best to accommodate.

*****If you receive your item broken or it breaks within 3 months, please let us know and we will repair your item or send you a similar replacement item of your choice!

****If there is something that you would like but don't see in our shop, or if you have an item you would like made into jewelry, please send us a message and we would love to discuss a custom order!

****Please see our terms and conditions for more info!